Overview
MMBR small community system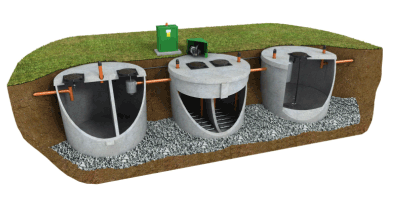 The Moving Bed Biological Reactor (MBBR) wastewater treatment plant incorporates the primary and secondary stages of wastewater treatment, using the mechanical aeration process housed within concrete tanks to achieve a 20:30 standard (mg/l BOD:mg/l TSS).
The MBBR system is a robust package treatment plant that offers simplicity of design, installation and operation and can be designed for small to large populations.
The concrete tanks of the MBBR provide an additional system design option for customers. Among other site conditions, concrete tanks are particularly suited for use where a deep invert level is required.
The MBBR treatment process can be provided for new sewage treatment works or for retrofitting or upgrading existing wastewater treatment plants where a higher treated effluent standard is required.
Nutrient removal options are also available. We provide Tertiary treatment options where higher consent levels need to be met.
Where it is used
Suitable applications include:
Housing developments
Commercial premises
Pubs
Restaurants
Hotels
Caravan parks
Golf clubs
Schools
Nursing homes
Benefits of MBBR
High treated effluent quality
Small footprint
Robust treatment plant (concrete tanks)
Below ground installation
Simplicity of design, installation and operation
Suitable for a broad range of applications